Christmas is already finished but the snow are never stop falling. We had lots of snow since before Christmas and just 3 days ago, we had freezing rain. There were some major accident everywhere. Good thing that we're not one of them though we always go out on that time. Hubby drove safely and slowly.

The day after the freezing rain, we drove around to take some picture. The trees were covered with ice. Too bad there was no sunlight. It could be a great photo. But still I took some and this is the best shot I did.

You can see more photo at GAGIERS PHOTOGRAPY. Just visit...enjoy:-)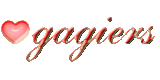 Read more...