2. Do you have any food restrictions?
Yes...fatty foods, acidic foods and coffee. My doctor wants me to avoid these foods after due to lots of acid in my stomach.
3. How much time do you take to get ready in the morning?

At least 45 minutes or more and it makes hubby sick :-)

4. Sausage or bacon?

I love them both but I can't eat them for at least a month but strictly no sausage nor bacon at supper time.

5. Do you Google, Bing or Yahoo?
Google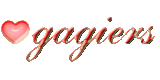 Read more...