(Photo was taken last summer)
I started preparing my luggage now for my trip to Philippines. I bought some "the cars" stuff tonight for my nephew's coming birthday party. My theme plan was Spider but I had a hard time finding spider's stuff. I found some but it was too expensive while "the cars", I was able to buy it at dollar store.
I'm getting too excited now. Two more weeks and I will see my family again after 4 years. I'm looking forward to hug and kiss them and tell them how much I love them. I just hope that everything will go fine in this trip.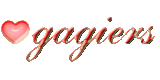 Read more...