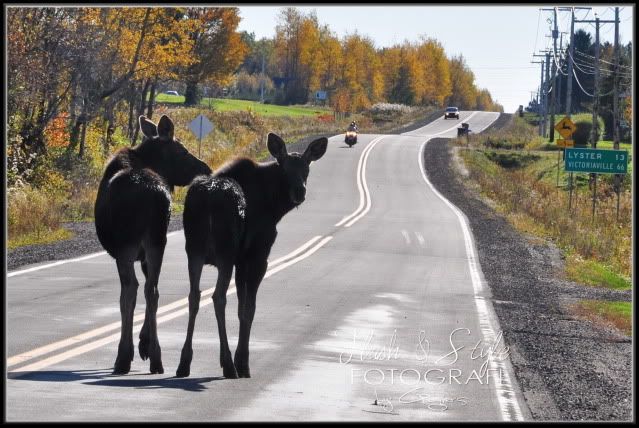 Yes I can tell that these moose are so lucky that I'm not a hunter. As I said in my post in Through My Lens, we drove around Canton de l'Est to see take some pictures of the trees. We drove through the country road to see the beauty of Autumn.
We drove below the speed limit because we wanted to enjoy looking the beautiful trees and hoping to see a nice spot for photo. And good thing we did that because if we drove to fast, for sure we will have a big accident because these two moose cross the street.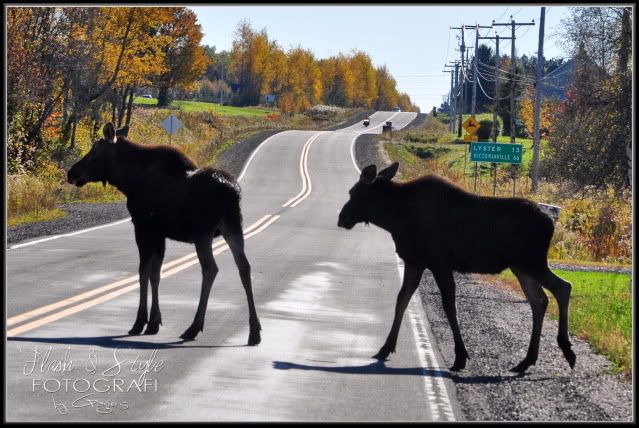 We stopped and hubby try to stop the car behind while I'm enjoying taking picture of them. They never attack us in fact, they looked at me as if they wanted to pose for me :-) I'm too scared they might attack me...I just click click my camera without making any adjustment. I guess I didn't make the fucos right as you see them dark.
Anyway, I didn't mind what my photo look like. All I wanted is to capture them for a souvenir. They stayed in the middle of the road for almost 5 minutes. Yes they are very lucky becuause that week was the hunting week for moose. If hunters were there, I'm sure they shoot them right away.