Finally, the bar in our basement is already finish. It took us a while to finish the whole basement because as I said in my previous entry, it's only hubby doing it with my help. He's not a professional carpenter but he can do carpenting job just in our house. I'm so lucky to have him because everytime I want something that needs carpenting, he will do it and I don't need to pay :-)
It took us 8 months to finish the basement with the bar. There are still little touch up to do but it can stay like the way it is until January. What is important now is we can have my early christmas party with my Filipino friends this coming Dec 3.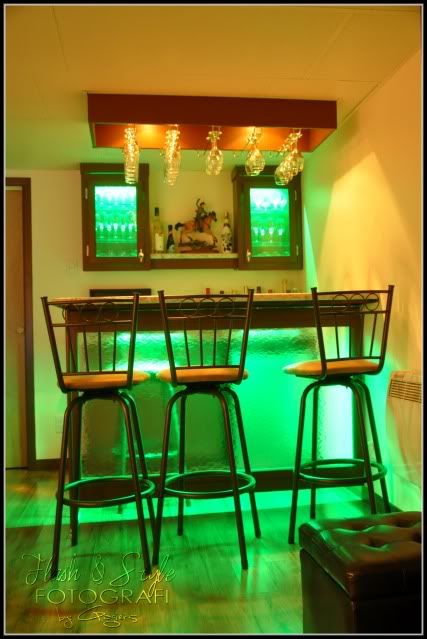 I made the design of the bar and hubby made it to reality. We are so happy with the outcome of our project. Honestly, I really like our bar. We did all the frame of the cap-board and the counter. The glass under the counter is the glass from the old shower that hubby had many years ago. It was in the basement so I told hubby why not use it and save $200.
We tried to clean the glass and take some of the soap scum. We put some cleaning stuff and we were able to get rid of the soap scum. We were so happy that we were able to reuse it.
As you can see, the lights of the two photos are different. It's because the lights change color depending on how you program the system. Hubby paid $300 just for the lights. I didn't expect he will spend that much just for the lights. It was really my plan to have a light like that but I didn't ask him because I know it's to way expensive and he already spent more than $10, 000 for the basement repair. But I was so happy when he told me that he already order the lights with remote control.
All in all, I love my basement :-) I call it my basement because it's me who spend more time in the basement and hubby spend more time in the living room. The basement is my style and the living room is his style:-)